SIOUX FALLS, SD — North West men's basketball coach Ben McCollum couldn't put his finger on the catalyst for his team's 70-55 win over MIAA foe Washburn on Sunday evening in the semi-finals of the central region tournament.
He could have attributed it to one of the best first halves of the season for the Bearcats, or he could have attributed it to a pair of underclassmen having immense and powerful performances.
But instead, at a table covered in blue cloth on the second floor of the Pentagon in Sanford, McCollum chose to attribute the program's third victory over the Ichabods this season to a sermon he listened to hours before the whistleblowing. – one that has remained with him up to this precise point.
"That was a good speech, wasn't it?" McCollum told second-year forward Wes Dreamer, who was seated directly to his left.
"The sermon was about, 'Where are you taking me today, my God? Where does this road lead? And understanding that it controls, and the same concept applies to basketball – that we don't control whether we win or lose, but what we control is effort and enthusiasm. … We control the effort and stuff like that," McCollum said.
He raved about how his program understands that message, the one that helped them defeat the Ichabods, who have served as a thorn in the side of the Bearcats for the past two years. For the second season in a row, this deep understanding helped Northwest end Washburn's title pursuit prematurely while extending his own.
"Games are always fun," McCollum said of the Bearcats' fifth win over the Ichabods in the last eight downs. "I mean, they're fun, but it's miserable at the same time, because they're so tough. I think we executed our game plan well.
The third-seeded 'Cats (30-5) showed that uncharacteristically early on. They weren't able to get off to a quick start for much of the season, and it looked like they would be again when seventh-seeded Ichabods (22-11) entered the table in the 22 first seconds.
That's when Dreamer — long before he told McCollum the sermon was what "kept him going" — hit a 3-pointer to start Northwest's scoring. The Ichabods didn't know it at the time, but those 36 seconds between their initial bucket and Dreamer's response was the only lead they got throughout the game.
And Dreamer didn't know it then, but that was the start of his thrilling night that included 16 points and 13 rebounds. It was the seventh double-double of his career and second in 48 hours after collecting 16 points and 12 rebounds during the Bearcats' quarter-final win over Minnesota State University Moorhead.
"I just try to give it my all and focus on getting those rebounds and being myself," Dreamer said. "I feel like it's working."
As good as he was on offense, he used his defensive prowess to help the Cats take a 21-point lead in the first half. He was also key in keeping them in the lead in the second, as Washburn scored from within 5 points before another goal push put the game out of reach.
With their guards struggling, the Ichabods focused on getting the ball into the post and senior striker Jonny Clausing. Dreamer held it scoreless in the first half and only allowed the big man from Washburn to finally finish with 10 points and six rebounds.
"I mean, he just fights," McCollum said of Dreamer. "I mean, that's what we have there – a 200 pound animal. … He's as tough and as rambling as it gets for his size, pound for pound, and he's what it means to be us. Hard, physical.
Dreamer took on the brunt of the Ichabods' presence because he had to. The Ichabods' senior guard tandem of Jalen Lewis and Tyler Geiman were plastered by North West redshirt freshman guard Isaiah Jackson and a mix between the Bearcats' own guard tandem of Diego Bernard and Trevor Hudgins .
It was Jackson, however, who made it his personal mission to torment the Ichabods point guards all night long, and he did just that. Geiman finished 1 of 12 with 2 points, and the pair were limited to 16 points combined.
"It's a team thing, but Isaiah was a huge part of that," McCollum said of Jackson, who had 13 points and eight rebounds. "Isaiah's feet, defensively, are absolutely absurd. I mean, it's one of the best foot moves I've ever trained. He just did such a good job of stalking.
Perhaps the most impressive part isn't that the 'Cats held the Ichabods to 40.7 percent from the field, including 31.8 percent from beyond the arc. Maybe it wasn't that they capitalized on their chances at the free throw line, going 25 for 28 from the charity stripe.
Maybe, just maybe, they picked up their second win over Washburn in seven days, and they did it without a stunning, jaw-dropping performance from Hudgins.
Northwest has relied heavily on Hudgins, the back-to-back MIAA Player of the Year, for most of this season. But Hudgins, who came into the contest averaging a career-high 23.4 points per game, had a low 7 points against the Ichabods, forcing those around him to step up the season in play.
"That was probably their game plan, take him," McCollum said. "(Geiman is) the best defender I've ever seen on Trevor. If you just want a clinic on an absolute – if there are battles in basketball – an absolute battle, go watch our games against Washburn over the last few years, especially this game.
Although Washburn's plan worked, the Ichabods didn't count Northwest redshirt freshman guard Mitch Mascari for having a scorching performance off the bench.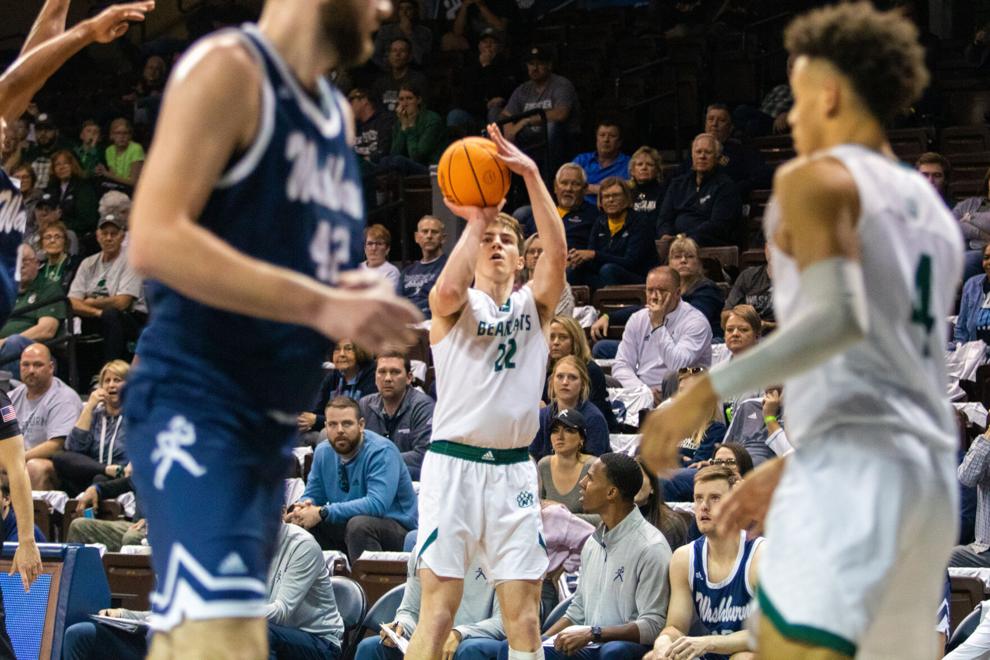 With the Bearcats on their way to their first-half lead, Washburn worked hard to end it. The Ichabods were back to single digits before Mascari stepped in and nailed his first 3-point attempt of the game. He followed that bucket with two more before the break, including another on the ensuing possession, before going 3 for 3 with 9 points.
"I think I look like two things: I either look really stupid or really smart. Or both," McCollum said of Mascari, who averages 12 minutes a game. "To play him – really smart. Let's stick to that one. … He's a good player. We have good players who have next to no time, if any at all. That's the hard part. more difficult to be in a team that is a champion team.
And just as the Ichabods thought they had hope, just as they halted Northwest's 11-0 run in the first half, that's when Bernard assured the Bearcat faithful who had Made the trip they were about to get for their money.
After Mascari's back-to-back triples, Washburn responded with one of his own. But Bernard, who finished with a game-high 18 points, used the Bearcats' next possession to use one of his patented jump shots. After that, he pushed the ball in defense before receiving Jackson's out pass.
Bernard ran a defender to the easternmost basket in the room before getting up and delivering an emphatic slam, which was followed by the native of St. Joseph, Missouri, throwing a celebratory slap.
"It was good," McCollum said.
"I mean, I always like a good dunk," Dreamer said.
The 'Cats will have to leave all of that in the past now. They won't get to – and they won't spend too much time marveling at Bernard's dunk. They won't be able to marvel at Mascari's unexpected hot hand. They won't be able to marvel at any of the things that helped them reach the Central Region Tournament title game for the seventh time in eight years.
They will now turn their attention to top seed Augustana, the opponent they face on Tuesday night with a trip to the Elite Eight on the line, and the opponent they haven't faced since November 2016.
"Winning the next one, isn't that how tournaments work?" said McCollum. "Win the next one."